If you've ever watched a loved one slowly lose their independence as the result of the blindness caused by macular degeneration, you know how devastating the diagnosis can be. However, as clinical studies make new discoveries and technology is developed to delay the disease's progression, age-related macular degeneration (AMD) becomes less scary and the prognosis more hopeful.
Macular degeneration is a disorder of the retina that affects the macula, the central portion of the retina where straight ahead vision occurs. Depending on the type of AMD you have, the macula may be thinning and deteriorating as the result of age, or it could be impeded as a result of the growth of abnormal blood vessels near the macula. Macular degeneration is the leading cause of irreversible blindness in people aged 60 and up. An estimated 10 million people will experience the disorder at some point during their retirement years.
Macular Degeneration Symptoms and the Amsler Grid
Age is the primary risk factor for developing macular degeneration, but there are other risk factors as well. If you have a family history of macular degeneration, if you are a smoker, or if you have been diagnosed with hypertension, you are more likely to develop AMD. Early symptoms of macular degeneration include:
Partial loss of vision

Blurred or darkened central vision

Straight lines appear wavy

Seeing spots

Difficulty seeing in dim light



Doctors often use the Amsler grid (seen below) as a screening tool for determining whether or not a patient may have macular degeneration. Holding the grid 12 inches from your face and covering one eye at a time, focus on the dot at the center of the grid. If you begin to see spots or the lines begin to look distorted, you may be in the early stages of macular degeneration.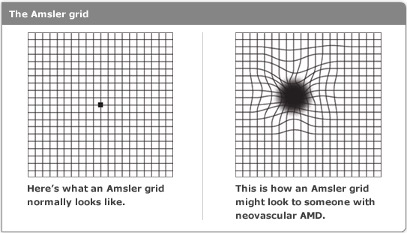 The Difference Between Wet and Dry Macular Degeneration
There are two types of age-related macular degeneration: wet and dry. Dry AMD is the early phase of the disorder and is usually caused by aging and the thinning of the macula over time. Through a period of years, slow progression to late-stage atrophy can occur and can cause severe vision loss.
Wet AMD occurs as the result of new, abnormal blood vessels developing beneath the retina. These blood vessels leak or bleed and cause a distortion in the macula, negatively impacting the patient's central vision. Left untreated, this condition could lead to scarring and vision loss. The good news is that there is treatment for wet AMD.

Wet Injections
Because wet AMD is caused by the leaking or bleeding of abnormal blood vessels, it can be treated with Anti-Vascular Endothelial Growth Factor (VEGF) drugs such as Lucentis, Avastin, and Eylea. These drugs can be injected into the eye to cause the abnormal blood vessels to stop bleeding or leaking, drastically slowing the progression of the disease.

Treatment for Dry Macular Degeneration
Unfortunately, there is no such treatment for dry AMD. There are, however, some hopeful clinical trials that could inform doctors. The Age-Related Eye Disease Study (AREDS) has shown some strong evidence that certain nutrients may slow the progression of dry AMD. Specific nutrients mentioned include beta carotene, vitamins C and E, lutein, and omega 3 fatty acids. In other words, what you choose to ingest today could benefit your long-term vision in the future.

Lasting Effects of Not Getting Treatment
Because macular degeneration is a progressive disorder, the sooner it's diagnosed, the better your long-term prognosis. Delaying or refusing treatment could result in permanent vision loss, driving restrictions, increased dependence on others, the inability to read or recognize loved one's faces, and the greater likelihood of falling over unseen obstacles.
Schedule your appointment today. The doctors at Mid Florida Eye Center use the latest technology and research to treat each patient as an individual and to do everything in their power to maintain your vision. Don't wait any longer.